Riverside County, the jewel of Southwest California, is gently nestled between the Colorado River to the east and the city lights of Orange County to the west. Within an hour's drive of the San Bernardino Mountains and a sea breeze away from the Pacific Ocean, the typically warm climate of the desert draws thousands of visitors and new residents every year, taking advantage of all Riverside County has to offer.
Recognizing the historic and economic significance of the region, state lawmakers created the Riverside County niche from a portion of San Diego County in 1893. Since then the region has become world renown for its agricultural contributions (avocados, citrus and dates), international transportation hubs (March Air Base Global Port), and the finest planned communities and affordable housing. Recreational opportunities include backpacking through the forests in Idyllwild, water skiing at Lake Perris or the Colorado River, skydiving through the internationally recognized jump zones of Lake Elsinore, and off-road vehicle races across the sand dunes of the Coachella Valley near Indio and Palm Springs.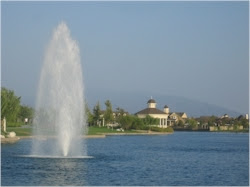 In the southwest portion of the County the Temecula Wine Country takes center stage, with award winning wineries and vintage grapes that are savored around the world. In the central part of the County sits the region's tallest peak, Mt. San Jacinto, and the apex of the Palm Springs Aerial Tram, a world famous recreation destination.
Toward the east lies the Coachella Valley, home to Palm Springs, famous playground for Hollywood starlets and world leaders alike. The desert is also home to first class shopping at the Cabazon Factory Outlets and the International Date Festival, a celebration of the timeless fruit that dates back to before medieval times.
In addition to a thriving recreational economy, the region is also home to industry and businesses that offer convenient work schedules and highly competitive salaries. International biotech firms, defense industries, world-class health care providers and nationally recognized post-secondary education make Riverside County one of the best locations in the country to live, work and play. Combine these economic opportunities with the region's affordable home prices and suburban executive housing options, and you can easily see how Riverside County is Southwest California's best kept secret.